3D Printing Services
The NDSU Libraries provide 3D printing as a drop-off service at the Main Library for NDSU students, staff, and faculty. 3D printing is an additive manufacturing process in which a three-dimensional object is built by laying down successive layers of thin material.
If this is your first time 3D printing with NDSU Libraries, we highly recommend coming to the 3D printing desk in the Main Library during open hours. If you have any questions, please email us at ndsu.library.3dprint@ndsu.edu.
3d Printing is closed for the Summer.
3D Printing follows the same calendar as the main campus and offices are closed on the same observed days. For a full list of dates and holiday observances, visit the Office of Registration and Records website.
Next semester hours will be announced the last month of the current semester. Times are subject to change.
Contact Information
Phone: 701-231-5565
Location: Main Library 121
Print Cost
The cost to 3D print is $0.25 per gram, with a minimum of $5 per job submitted. An estimate will be given for approval prior to starting the job, but may not reflect the final charge.
New process! Please read the following carefully.
All Customers:
Click on "Upload a File"
Fill out all the fields on the submission form and attach your object (*.stl, *.obj, or *.stp are accepted)
Check the box indicating that you acknowledge and agree to the service terms of the online submission
3D Printing library staff will review your object; if it is unprintable we will reach out
An email will be sent out with an estimated cost
Approve/Deny our estimate
If you approve, staff will print your object when a printer is availalbe
When your print is completed, you will receive an email with the final cost
Pick up your printed objects from the Main Library Checkout Desk, you must present your Bison ID and payment to pickup your object. We accept cash, check, and credit/debit cards
We highly recommend that if it is your first time printing with the Library to visit us at the 3D printing desk during open hours.
Resolution
Resolution refers to the height of the layers in your print. The higher the resolution, the thinner the filament layers. Prints made with thinner layers will create more detailed prints with a smoother surface where it is difficult to see the individual filament layers. The thinner the filament layers, the more time it takes to print (and increased cost) since there will be more layers that make up your object. If you are printing something without a lot of detail or where detail is not necessary, thicker filament layers will get you a faster print (thus costing less) but the surface will be rougher and the individual filament layers more visible. Our printers have the capability to print in three levels of resolution: low, standard, and high. Users have the option to select their preferred level of resolution. The default is to print at standard resolution.
Macro view at 50, 200, and 300 microns from left to right.
Infill
Infill refers to the density of filament inside your print. For example an infill of 10%, would be 10% filament and 90% air. If you need to make your object stronger or more solid, you may want to increase the infill percentage. Increasing the infill percentage will lengthen the printing time and increase the printing cost. Our staff will review your object and recommend the appropriate infill density, generally this is between 10% and 20%.
Rectilinear infill patterns ranging from 10% to 100%
Shells
Shells refer to the number of times the outer walls of your object are traced with filament before starting the infill. This defines the thickness of the side walls and is one of the biggest factors in the strength of your finished print. If you need a finished print that is more durable, an increase in the shells will help to achieve this. Our staff will review your object and recommend the appropriate shell thickness.
Rafts
Rafts are a thin layer of filament printed at the base of the print and act as a platform that can help the object stick to the build plate and maintain the integrity of the shape while printing. Rafts can be useful when printing objects with small parts at the bottom, helping to anchor the object to the build plate. Rafts can be removed from the object once the print is completed.
Supports
Supports are scaffolding that help to hold up objects that don't have enough base material to build off of as they are printing. 3D printing works by printing layers on top of each other. If your print includes parts that extend past a 45 degree angle, there will be nothing on which to build the layer. These parts are called overhangs and can create a dropping effect without the use of supports. Our software will automatically add supports to overhangs on your object if it is necessary. These supports can easily be removed from the object once the print is completed. A file will remove any marks left on the finished object.
The printers range in size and capabilities. Upon submitting your file, our staff will select the appropriate machine to complete your job. Below is what we have in our lab:
3D Printers
Brand: Makerbot
Model: Replicator 2
Quantity: x4
Build Volume: 11.2 x 6 x 6.1 in. (285 x 153 x 155 mm).
Additional Accessories: None
CC Image courtesy of Creative Tools on Flickr
Brand: Lulzbot
Model: TAZ6
Quantity: x2
Build Volume: 11 x 11 x 9.8 in (280 x 280 x 250 mm).
Additional Accessories: Dual Extruder
Brand: Prusa Research
Model: i3 MK2
Quantity: x2
Build Volume: 9.84 x 8.3 x 8 in. (250 x 210 x 200 mm).
Additional Accessories: None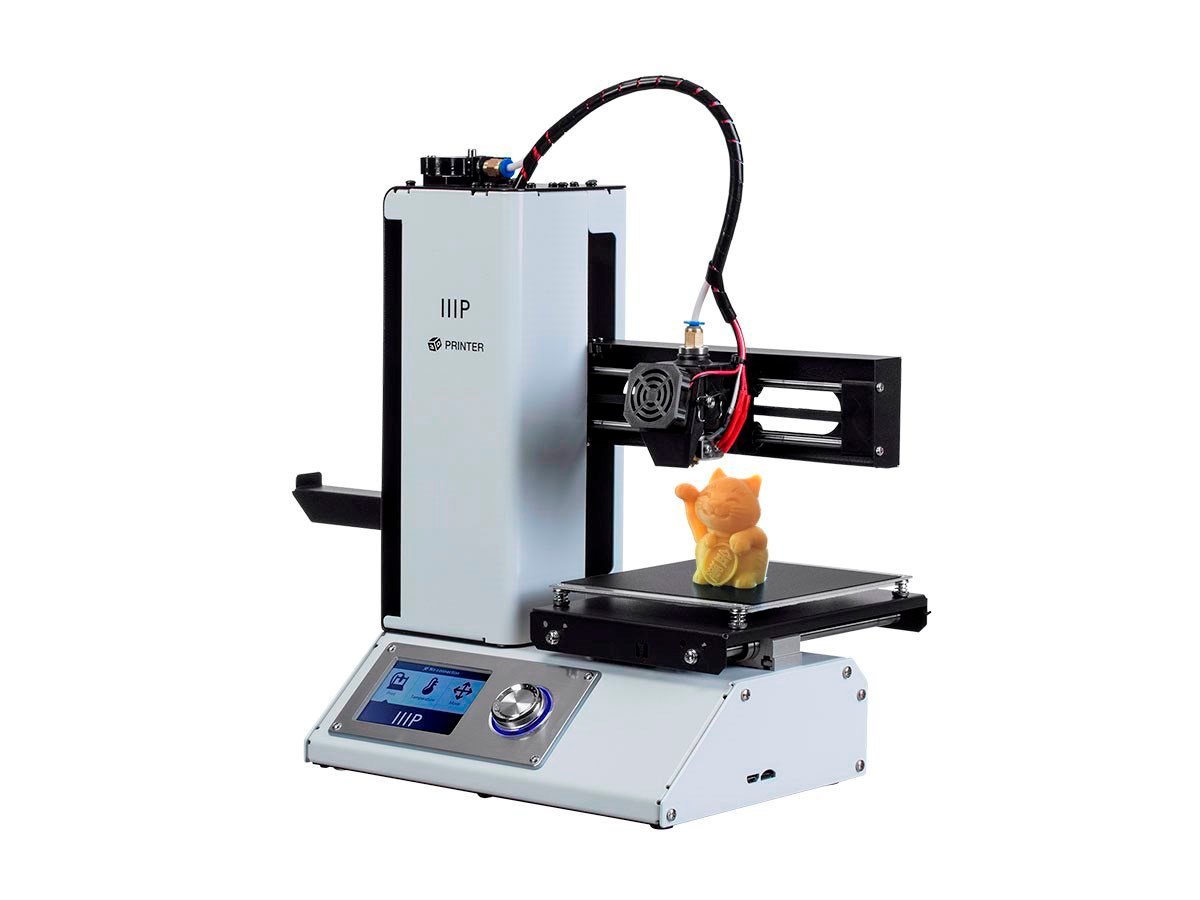 Brand: Monoprice
Model: Makerselect Mini v1
Quantity: x1
Build Volume: 4.7 x 4.7 x 4.7 in. (120 x 120 x 120 mm).
Additional Accessories: None
3D Scanners
Brand: 3D Systems
Model: Sense 3D
Quantity: x1
View Window: 8in x 8in x 8in to 6.5ft x 6.5ft x 6.5ft.
Additional Accessories: None
Brand/Model: Matter and Form
Quantity: x1
View Window: 9.8 inches in height, 7.0 inches in diameter, and 6.6 lbs in weight.
Additional Accessories: None
3D Pens
We have six 3Doodler Create pen kits available
Each kit includes:
3Doodler Create pen

power adapter

quick start guide

plastic/filament (PLA, ABS, and Flexy)

nozzle set

doodle pad

project book
Filaments
We are currently carrying PLA and nGen materials, as well as some Pro-PLA.
Polylactic Acid (PLA) is a plant-based bioplastic derived from corn (US) or sugarcane (rest of world). PLA is a very stiff but brittle plastic and does not withstand high temperatures or long-term humidity. PLA is compostable on the industrial scale and is currently being used for every-day products such as sports areana beverage cups, yogurt cups, as well as some baby products.

Technical data can be found here: Link
​

nGen is a co-polyester made from Eastman Amphora AM3300 polymer. nGen has a high temperature tolerance and is durable.

Technical data can be found here: Link
​
Workshops
Workshops are interactive sessions where students, staff, and/or faculty, learn about different aspects of 3D printing & design. Below are a few dates and times when workshops will be taking place. If you are interested in attending one, simply click on the date under the workshop title to reserve your spot:
Spring Semester

Fusion360 - Part 1
Designing for 3D Printing
Class Instruction
The 3D printing lab would be would be happy to work with faculty or staff on a class workshop or collaboration on an assignment! These can be hands-on demonstrations or presentation style instruction. Some examples are:
"What is 3D Printing and how is it used in ....." - Presentation

"Using 3D Prints to Print out Project Prototype(s)" - Hands-on

"Using 3D Printers to Print out Reference Materials in ......" - Hands-on